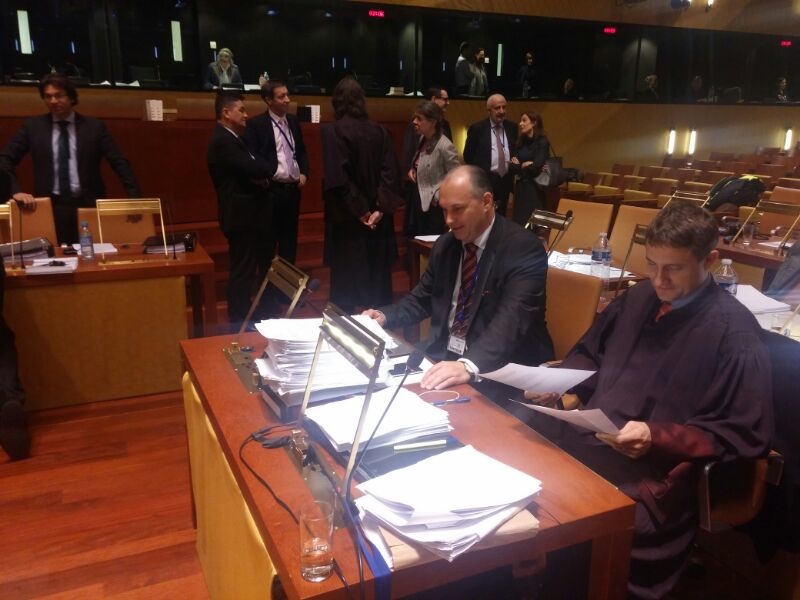 The oral proceedings due to the expropriation of shareholders and bondholders of Slovenian banks within the "Kotnik and others" case took place before the Grand Chamber of the European Court of Justice (ECJ) in Luxembourg on Tuesday. On the part of the PanSlovenian Shareholders' Association (VZMD), which was first to initiate procedures for the constitutional assessment of the Banking Act (ZBan) two years ago, the interests of the expropriated holders were competently represented by the lawyers Mr. Miha Kunič, Ms. Tamara Kek and Mr. Jorg Sladič, as well as the prime mover of the Initiative within VZMD, Mr. Tadej Kotnik, and the VZMD President, Mr. Kristjan Verbič.
The other party was represented by two foreign law firms, two state attorneys of the Republic of Slovenia and eight employees of the Bank of Slovenia. The Bank of Slovenia announced that the total costs of this representation will not exceed EUR 85,000!!! In this respect, VZMD seriously questions the role of the Bank of Slovenia as the procedure before the ECJ refers to the constitutionality of the Banking Act and not to the individual contentious cancellations and their economic justification. Namely, the key issue of the procedure is whether the European Commission's Banking Communication (as regards Slovenia) was the binding legal reference. VZMD believes that the mentioned Communication is not binding, which has also been validated by its author - the European Commission.
VZMD also stressed that the one of the opposing parties is also the State Attorney's Office of the Republic of Slovenia, which is to represent the Republic of Slovenia, and as such includes the Ombudsman of the Republic of Slovenia, the National Council and other courts, all of which are also initiators of the Banking Act constitutionality assessment.

---
Other Related International Activities:
EU COURT - prior to the pending public hearing in Luxembourg, new shocking facts have come out in regard to the background of the (dual) plunder of holders of shares and bonds of Slovenian banks and at the same time the plunder of all Slovenian taxpayers which rampantly keeps going on!
Slovenian EUR 264 million to pay off investors in shares and bonds of Greek banks as well – Slovenian authorities continue to thumb their nose at expropriated investors in Slovenian banks and their own taxpayers - BUT FOR HOW LONG!?!
EU COURT in Luxembourg should hold oral proceedings in the process of preparing responses for the Constitutional Court of the Republic of Slovenia - the motion of expropriated holders of subordinated bonds and shares of Slovenian Banks represented by VZMD put forward
BRUSSELS – European Federation of Investors (BETTER FINANCE) presented the only(!) objective Report on the real return of pension savings funds – the PanSlovenian Investors' & Shareholders' Association (VZMD) also actively espousing reforms of the pension savings and funds systems in the EU
EUROPEAN COMMISSION officially bolstered the position of VZMD stating that its »Banking Communication« is not a legally binding act - the Bank of Slovenia and Slovenian financial authorities insist on the exact opposite and in fighting against their own citizens they disgrace themselves by trying to apologize for scandalous measures and fallacies
THE NATIONAL ASSEMBLY unanimously responded to the VZMD's rationale and appeal - significant cost reduction for all minority shareholders and investors (approximately 400,000 citizens) with the new amendment to the amending act of the Book Entry Securities Act
THE COALITION'S AMENDMENT to a large extent follows the VZMD proposals to alleviate the catastrophic impact of the amending act of ZNVP-1, however yesterday VZMD sent a constructive opinion and another appeal to the National Assembly to make slight additional efforts in reaching an optimal solution
ANOTHER 260,000 EXPROPRIATED – VZMD has attempted to alleviate the abolishment of registry accounts by amending the Book Entry Securities Act through the COMPROMISE AMENDMENT AND APPEAL to the National Assembly of the Republic of Slovenia
The District Court and the Higher Court officially acknowledge VZMD arguments concerning the unconstitutionality of expropriations, however the proceedings have been suspended until the final decision has been reached by the Constitutional Court of the Republic of Slovenia, which contacted the EU Court in Luxembourg - VZMD has provided written standpoints thereto after a world-class EU law expert joined the team
ATTENTION - unveiling evidence against the unlawfulness of Slovenian banks valuations and the overblown "bank gap" as a foundation for billion euro damage to the state and its citizens, based on unlawful actions by Bank of Slovenia and its Emergency measures decisions
Is the European Commission attempting to obstruct the investigation and protect the responsible persons?! The unprecedented provocation opens plethora of grave issues about processes, structure and perspectives of the EU -
NKBM = BANKIA – mass protests take place in front of The Central Bank of Spain (CBS) because of national fraud against 350,000 shareholders who are represented by the law firm that is attending, along with VZMD (Pan−Slovenian Shareholders' Association), the international initiative at CBS. (Madrid, September 2013)
WORLD BANK – President of VZMD and EuroFinUse Board Member speaker of the first panel at the international conference about audit reform and the importance of audit committees (Bucharest, June 2013)
VIDEO REPORT – exclusively from the European Parliament: the EuroFinUse international conference and the Election Assembly, the announcement of the new President and Board of directors of this influential European association, into which a representative of Slovenia is also re-elected (Brussels, March 2013)
BRUSSELS – Slovenia with VZMD once more elected to the top of the European Federation of Financial Services Users – intensive international activities today continue with a conference in the European Parliament (Brussels, March 2013)
TOKYO – conclusion of the visit of Slovene economic and political delegation with Slovenian-Japanese Business & Investment Forum and the reception at Japanese investors' association – the active role of VZMD with its international investors' programs investo.si and invest-to.net(Tokyo, March 2013)
INDIA – visit of Slovenian government and business delegation – on the basis of Memorandum between ICPE and VZMD international investors' programs investo.si and invest-to.net also present (New Delhi, February 2013)
Memorandum of cooperation signed between the International Center for Promotion of Enterprises (ICPE) and VZMD, with additional expansion of activities within the framework of international investment programs investo.si and invest-to.net (Ljubljana, January, 2013)
EXCLUSIVE VIDEO REPORT of "International Conference on Benefits and Challenges of Public Private Partnerships for improving Energy Efficiency" – key statements of prominent participants (Ljubljana, October, 2012)
EXCLUSIVE VIDEO REPORT from EuropeanIssuers International Conference on »The future of European Equity Markets« at the Milan Stock Exchange – programs investo.si in invest-to.net also at the upcoming International Investors´ Conference in Wiesbaden (Milano, November 2012)
VIDEO REPORT - International Conference at the Brussels Stock Exchange Stimulated Investors' Representatives and Institutions to Participate at the Investors' Week 2012 in September in Slovenia(Brussels, March 2012)
---
www.vzmd.si – More on the VZMD – PanSlovenian Shareholders' Association
www.vzmd.tv and www.investo.tv – Over 300 videos from VZMD.TV and investo.tv
www.investo.si – More on the investo.si – Invest to Slovenia Program
www.invest-to.net – More on the network of 65 national organizations of shareholders and investors – invest-to.net