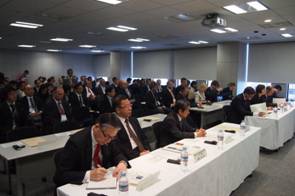 After successful visit of Slovene economic and political delegation to Japan, Mr. Kristjan Verbič, the President of PanSlovenian Shareholders' Association(VZMD), ended his working visit there, with the visit of Japanese investors' association, SeLeNet, where he was welcomed by the Managing Director Mr. Frank Kaneko and the Director Mrs. Yoshiko Togashi. The conversations were focused mostly on the further intensification of mutual cooperation within the international investors' programs of VZMD: Invest to Slovenia (investo.si) and International Investors' Network(invest-to.net).
In organization of SPIRIT Slovenia, partner Japanese agency JETRO and the Embassy of the Republic of Slovenia in Japan, supported by the Ministry of Economic Development and Technology of the Republic of Slovenia, the Ministry of Foreign Affairs of the Republic of Slovenia,Manufactured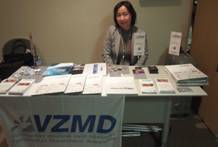 Imports and Investment Promotion Organization MIPRO and Tokyo Chamber of Commerce and Industry, "Slovenian-Japanese Business & Investment Forum" was held in Tokyo last Friday. At the forum, all gathered were among others addressed by the President of the Republic of Slovenia, Mr. Borut Pahor, the President of JETRO, Mr. Hidehiro Yokoo, and the Acting Director of SPIRIT, Mr. Boštjan Skalar. Mr. Yokoo and Mr. Skalar also signed an agreement on cooperation between SPIRIT Slovenia and JETRO to deepen economic cooperation and strengthen partner relations. At the same time, two commercial contracts have been signed: DUOL company has signed a contract about establishment of competitive center for new materials and technology with the Japanese producer of membranes, Hiraoka company, and VSR Lab company has signed a letter of intent for the supply of water vessels to the Japanese buyer.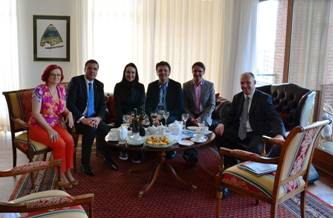 The forum concluded with B2B business meetings, which were attended by numerous businessmen and representatives of Japanese companies. Also on these occasions, the proper presentation of companies, institutions and investment projects, included in the international investors' programs investo.si and invest-to.net, was provided. Japanese participants have shown considerable interest in these programs,and all of the extensive informational and promotional materials, presented by the VZMD in Tokyo, ran out.
After a successful cooperation in economic delegation, which in January visited Baku, the capital of Azerbaijan, and this time visit of the economic and political delegation in Japan, VZMD invites all interested companies, institutions, communities and individuals to take advantage of opportunities for cooperation and inclusion of their informational materials, promotional materials and investment projects in web portals, materials and occasional magazines"investo Expo", as well as in events on numerous other anticipated occasions, which are being prepared within the context of both international investors' programs in 2013.
---
Other Related International Activities:
TOKIO – Slovene delegation, at the visit of the President of the Republic of Slovenia, active and successful at business meetings with the highest representatives of Japanese corporations and institutions – the active role of VZMD with its international investors' programs investo.si and invest-to.net (Tokyo, March 2013)
INDIA – visit of Slovenian government and business delegation – on the basis of Memorandum between ICPE and VZMD international investors' programs investo.si and invest-to.net also present (New Delhi, February, 2013)
Memorandum of cooperation signed between the International Center for Promotion of Enterprises (ICPE) and VZMD, with additional expansion of activities within the framework of international investment programs investo.si and invest-to.net (Ljubljana, January, 2013)
EXCLUSIVE VIDEO REPORT of "International Conference on Benefits and Challenges of Public Private Partnerships for improving Energy Efficiency" – key statements of prominent participants (Ljubljana, October, 2012)
VIDEO REPORT - Prominent Participants of Two Key International Conferences in Bled, India and Slovenia as Business Partners and CloudForum, Show Interest in the Investors' Week in September in Slovenia (Bled, March 2012)
EXCLUSIVE VIDEO REPORT from Slovenian - Azerbaijani Business Forum in Baku (Baku, January, 2013)
EXCLUSIVE VIDEO REPORT from EuropeanIssuers International Conference on »The future of European Equity Markets« at the Milan Stock Exchange – programs investo.si in invest-to.net also at the upcoming International Investors´ Conference in Wiesbaden (Milano, November 2012)
EXCLUSIVE VIDEO REPORT - Investors' week and the view of business potentials and investment opportunities during the visit of distinguished international guests at the Slovenian coast (Postojna, Koper, Piran, September, 2012)
VIDEO REPORT "Ljubljana declaration" – historic decision on unification of 50 organizations of shareholders and investors under one association and VZMD award »Polet« for »Model corporate governance in multinational corporation« to Gorenje company (Ljubljana, September 21, 2012)
Gala reception and dinner before International Conference on financial education and investors` exposition »investo Expo« (Ljubljana, September 19, 2012)
VIDEO REPORT - International Conference at the Brussels Stock Exchange Stimulated Investors' Representatives and Institutions to Participate at the Investors' Week 2012 in September in Slovenia(Brussels, March 2012)
"Slovenian Day at the Warsaw Stock Exchange (WSE)" Exceptional Interest of Funds, Investors, and the Financial Media for Slovenian Companies and Its Investment Environment - The Introduction of investo.si - Invest to Slovenia's Newly Founded Affiliate, investo.me - Invest to Montenegro (Warsaw, October 2011)
SLOVENIA PRAISED IN PARIS – acclaimed presentation of reputable Slovenian companies at the largest European investment convention, Actionaria, and the General Assembly of the World Federation of Investors Corporation (WFIC) – VZMD.TV EXCLUSIVE BROADCAST (Paris, December 2010)
---
www.vzmd.si – More on the VZMD – PanSlovenian Shareholders' Association
www.vzmd.tv and www.investo.tv – Over 280 videos from VZMD.TV and investo.tv
www.investo.si – More on the investo.si – Invest to Slovenia Program
www.invest-to.net – More on the network of 55 national organizations of shareholders and investors – invest-to.net