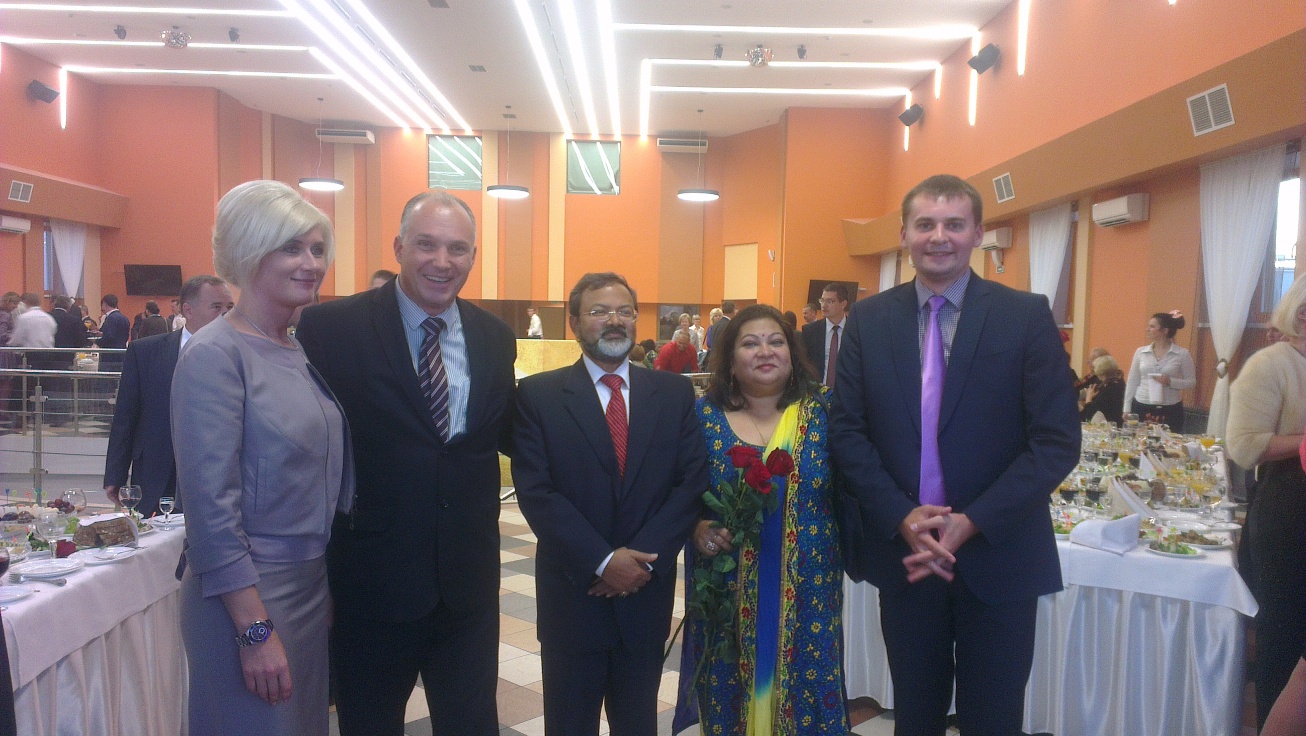 This year's sixth tour of the PanSlovenian Shareholders' Association (VZMD) international business-investment programmes: Invest to Slovenia (investo.si) and International Investors` Network (invest-to.net) is being concluded by the VZMD President's return from Warsaw. In the framework of the tour the VZMD President Mr Kristjan Verbič, MSc, last week actively participated at the 9th Bled Strategic Forum, and he also attended the high-level THINK TANKS symposium (16+1) of China and Central and Eastern European countries (investo.TV VIDEO REPORT). Mr Verbič also attended the international investor's forum and the »Euroregion Neman 2014« expo which took place in the Belarusian city Grodno, the home to the »Grodnoinvest« free economic zone.
The VZMD President was, in the framework of the »Euroregion Neman 2014« expo, after the Thursday's noticeable opening ceremony, invited to present investo.si and invest-to programmes and the Slovenian business environment, wherein he invited numerous eminent businessmen and representatives of various institutions to join business delegation which will be, in cooperation with the Slovenian Chamber of Commerce and Industry (GZS), visiting Ljubljana in the second half of October. Besides the forum panels and various presentations the beer festival also took place. Beer is, otherwise, one of the most recognisable Belarusian export items, which is mostly exported to the neighbouring countries. Friday evening was concluded by a solemn award ceremony for the best company in the region in 2014, a gala reception (in the photo on the left: VZMD President with the Vice President of the Executive Board of Grodno region Elena Agej, Indian Ambassador to Belarus, HE Manoj K. Bharti and his wife, and the Head of the administration of the free economic zone »Grodnoinvest« Mr Sergey Tkachenko) and a fashion show presenting the textile products made by the manufacturing companies there.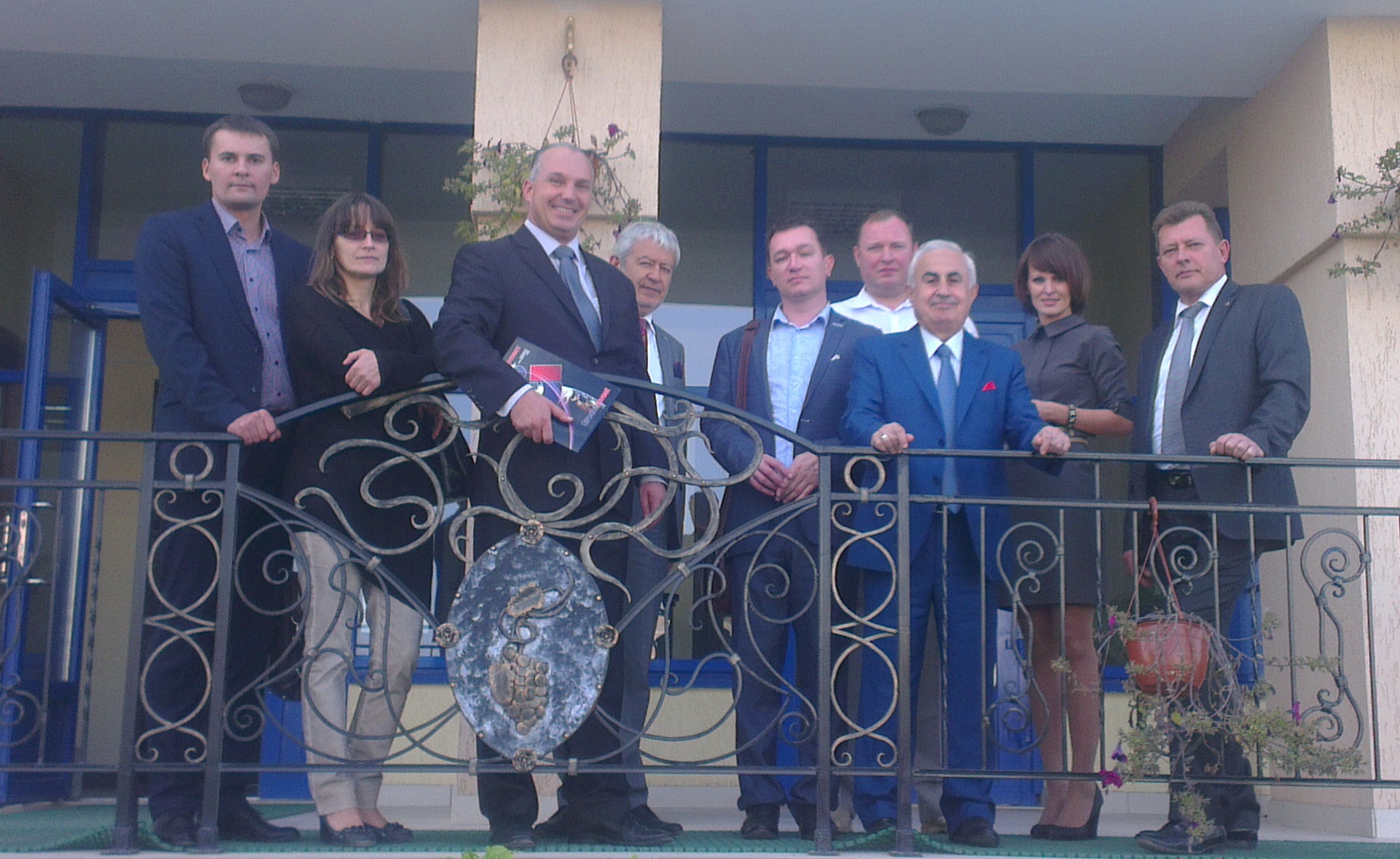 At the Friday's reception Mr Verbič was invited to a special visit to the manufacturing complex "ZOV-LenEUROMEBEL", which he visited on Saturday, together with the Deputy General Manager Denis Mitsura, the Head of Grodnoinvest administration Mr Sergey Tkachenko, the Governor of the Turkish region Edirne - Dursun Ali Sahin, and the Chairman of the Board of Directors of Edirne Chamber of Commerce and Industry Recep Zipkinkurt (in the photo on the right).
Besides the representatives of various companies and institutions, many Belarus media representatives also expressed their interest in Slovenia and business opportunities it can offer, as well as an interest in the possibilities of cooperation (one of the GRODNO PLUS TV news coverage on the left).

After this year's successful presentations of companies, institutions and investment projects in Belgrade, Bled, Bratislava, Brussels, Buenos Aires, Copenhagen, Madrid, Montevideo, New Delhi, New York, Ouagadougou, Paris and Tehran, and last year's in Astana, Almaty, Baku, Bled, Brussels, Buffalo, Bucharest, Cape Town, Celje, Dubai, Vienna, Kiev, Ljubljana, Madrid, Minsk, Moscow, New Delhi, Tokyo, Toronto and Zagreb, the two VZMD international business-investment programmes continue to provide for its partners effective presence and presentations on five continents!
If you would like to take part in our events and activities, you are kindly invited to contact the VZMD investo.si programme coordinator by phone 031 770 771 or e-mail: This email address is being protected from spambots. You need JavaScript enabled to view it.
---
Other Related International Activities:

VIDEO REPORT - 2nd High-level Symposium of THINK TANKS of China and Central and Eastern European countries

EXCLUSIVE VIDEO REPORT about the events at the Eurovision 2014 in Copenhagen – Slovenian representative Tinkara Kovač performed excellently and presented Slovenia also in the framework of the VZMD international investors & business programme investo.si and Slovenian business day in Denmark
SLOVENIAN DAY IN DENMARK – an exceptional presentation of Slovenia, its companies and trademarks accompanying the Eurovision 2014 Semi-finals – more than 500 guests from practically all participating countries were enthusiastic about the Slovenian culinary delicacies, Tinkara Kovač's special live concert and the VIDEO REPORT about the team's journey to Copenhagen by camper vans - VZMD and investo.si received a great deal of praise and are preparing additional activities
VIDEO INVITATION for the Slovenian Business Day at Eurovision Song Contest in Copenhagen - Exclusive offer by Slovenian representative and VZMD's international business-investors' program investo.si − Invest to Slovenia
EXCLUSIVE VIDEO REPORT from the awards ceremony, organised by »IFIMES« International Institute on Bled, and from the gala event accompanying an exceptional international visit with promising business, political, and diplomatic contacts (Bled, February 2013)
MOSCOW – At the Slovenian Embassy about a joint investors' conference in the fall – an arrangement between the Russian Federation of Investors, VZMD and the Slovenian Embassy (Moscow, June 2013)
KAZAKHSTAN – a successful visit of the Slovenian business delegation in Kazakhstan – strong interest displayed in the international investors' programs of the PanSlovenian Shareholders' Association (VZMD): investo.si and invest-to.net (Astana, Almaty, June 2013)
WORLD BANK – President of VZMD and EuroFinUse Board Member speaker of the first panel at the international conference about audit reform and the importance of audit committees (Bucharest, June 2013)
VIENNA – EXCLUSIVE VIDEO REPORT from the European meeting of venture and start-up capital funds and the congress of business angels' network EBAN 2013 – an active role of VZMD and its international investors' programs investo.si and invest-to.net (Vienna, May 2013)
VIDEO REPORT – Variegated happening at the 19th financial fair KAPITAL 2013 at Cankar Hall, along two-day presentation of the international investors' programs and the lecture of VZMD President (Ljubljana, April 2013)
VIDEO REPORT – exclusively from the European Parliament: the EuroFinUse international conference and the Election Assembly, the announcement of the new President and Board of directors of this influential European association, into which a representative of Slovenia is also re-elected (Brussels, March 2013)
BRUSSELS – Slovenia with VZMD once more elected to the top of the European Federation of Financial Services Users – intensive international activities today continue with a conference in the European Parliament (Brussels, March 2013)
TOKYO – conclusion of the visit of Slovene economic and political delegation with Slovenian-Japanese Business & Investment Forum and the reception at Japanese investors' association – the active role of VZMD with its international investors' programs investo.si and invest-to.net(Tokyo, March 2013)
INDIA – visit of Slovenian government and business delegation – on the basis of Memorandum between ICPE and VZMD international investors' programs investo.si and invest-to.net also present (New Delhi, February 2013)
Memorandum of cooperation signed between the International Center for Promotion of Enterprises (ICPE) and VZMD, with additional expansion of activities within the framework of international investment programs investo.si and invest-to.net (Ljubljana, January, 2013)
EXCLUSIVE VIDEO REPORT of "International Conference on Benefits and Challenges of Public Private Partnerships for improving Energy Efficiency" – key statements of prominent participants (Ljubljana, October, 2012)
VIDEO REPORT - Prominent Participants of Two Key International Conferences in Bled, India and Slovenia as Business Partners and CloudForum, Show Interest in the Investors' Week in September in Slovenia (Bled, March 2012)
EXCLUSIVE VIDEO REPORT from Slovenian - Azerbaijani Business Forum in Baku (Baku, January, 2013)
EXCLUSIVE VIDEO REPORT from EuropeanIssuers International Conference on »The future of European Equity Markets« at the Milan Stock Exchange – programs investo.si in invest-to.net also at the upcoming International Investors´ Conference in Wiesbaden (Milano, November 2012)
EXCLUSIVE VIDEO REPORT - Investors' week and the view of business potentials and investment opportunities during the visit of distinguished international guests at the Slovenian coast (Postojna, Koper, Piran, September, 2012)
VIDEO REPORT "Ljubljana declaration" – historic decision on unification of 50 organizations of shareholders and investors under one association and VZMD award »Polet« for »Model corporate governance in multinational corporation« to Gorenje company (Ljubljana, September 21, 2012)
Gala reception and dinner before International Conference on financial education and investors` exposition »investo Expo« (Ljubljana, September 19, 2012)
VIDEO REPORT - International Conference at the Brussels Stock Exchange Stimulated Investors' Representatives and Institutions to Participate at the Investors' Week 2012 in September in Slovenia(Brussels, March 2012)
"Slovenian Day at the Warsaw Stock Exchange (WSE)" Exceptional Interest of Funds, Investors, and the Financial Media for Slovenian Companies and Its Investment Environment - The Introduction of investo.si - Invest to Slovenia's Newly Founded Affiliate, investo.me - Invest to Montenegro (Warsaw, October 2011)
SLOVENIA PRAISED IN PARIS – acclaimed presentation of reputable Slovenian companies at the largest European investment convention, Actionaria, and the General Assembly of the World Federation of Investors Corporation (WFIC) – VZMD.TV EXCLUSIVE BROADCAST (Paris, December 2010)
---
www.vzmd.si – More on the VZMD – PanSlovenian Shareholders' Association
www.vzmd.tv and www.investo.tv – Over 300 videos from VZMD.TV and investo.tv
www.investo.si – More on the investo.si – Invest to Slovenia Program
www.invest-to.net – More on the network of 55 national organizations of shareholders and investors – invest-to.net